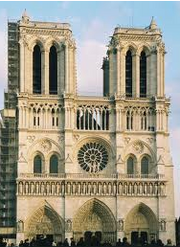 The Notre Dame de Paris is a French Cathedral. It is, of course a rather crucial location in the novel, opera, or the animated film. Most events actually take place in the cathedral.
In the novel, it is described as a building of great scale. In this version, it has the French word: ANARKIA (English: Fate) engraved on it's side, signifying the events that occurred there.
In the Opera, there is almost no change to the cathedral.
Animated film
Edit
In the animated version, Notre Dame is almost the same, however, it doesn't have the engraving "ANARKIA" on it's side, mainly because it would darken the story, which Disney didn't want to do.